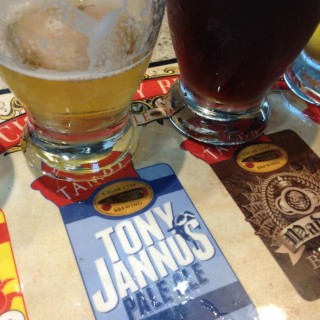 That was my reaction on a recent trip to Tampa with Herr Hordeum to visit his progenitors. The "what" was a Cigar City brewpub. The "where" was Airside Terminal C of the Tampa International Airport.
Regular Aleheads may recognize Cigar City from coverage of previous Tampa adventures, or, if you're lucky, from drinking a Jai Alai IPA or the coveted Hunahpu's Imperial Stout. The enterprising folks at this pillar of craft brewing recently teamed up with TIA and four other local restaurants* as part of a $6 million concessions renovation to jazz up the Tampa air travel experience. Herr and I were excited enough about the prospect of not eating lunch at a Chili's and paying $7.50 for a Sam Adams on our way back to the Midwest that we actually got to the airport early. To hang out. In the terminal. I know.
*No. Not Hooters.
Now, when I called this enterprise a brewpub, I really do mean it.  In addition to providing a full menu of amazingly delicious Cuban and Cuban-inspired dishes, they have a 1.5-barrel brewhouse and two 3-barrel fermentors. They actually brew an exclusive beer onsite, the Tony Jannus Extra Pale Ale (named for the first commercial pilot; solid, refreshing, and great pre-takeoff relaxer). Also on tap were the Hotter Than Helles Lager, Jai Alai, and a seasonal, the Good Gourd Imperial Pumpkin Stout (probably my new best favorite pumpkin beer).
Are we witnessing a paradigm shift? Will offering reasonably-priced local craft brews in airports catch on? Will Aleheads begin to make travel plans based on what rare brews are available during their layovers? Only time will tell.